There are two forms of the UK FareXChange profile:
Basic Profile: common basic UK Bus fares.
Advanced Profile: More complex UK Bus fares and conditions.
In the Basic profile complex conditions may be explained textually; in thw Advanced profile such conditions may be expressed with machine readable elements
---
1. Basic Fare Product Profile Scope
The FareXChange Basic Fare Product profile aims to cover:
Trip and pass products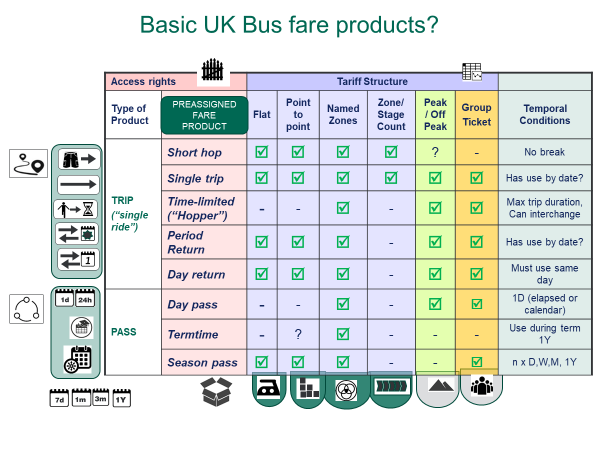 Carnet products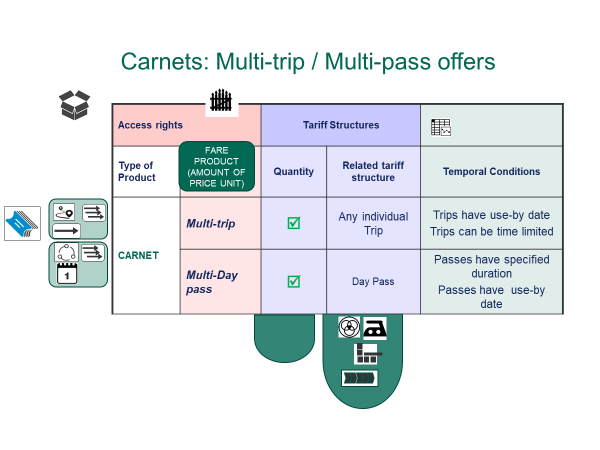 Features of basic profile products
The basic profile is intended to support the following features.
1.1 Access Rights
NETWORK
Network elements used in tariff structures:
Stop points

NaPTAN stops.
NPTG Localities used to indicate Topographic place.

Tariff zones

PlusBus - NPTG defined
Operator Specific - Operator defined.
Multi-Operator - Local Authority or By agreement.

Lines. (routes)
Organisations

Operators (with National Operator code).
Groups of Operators.
Other organisations (e.g. retail consortia.
TARIFF STRUCTURES
Access rights to network:
Spatial

Flat.
Point-to-Point & Zone-to-zone.
Named zones.
Unit section count.

Temporal

Pass durations

60 min, 90 min 180 min. etc.
Evening.
Day.
Weekly.
Monthly.
Quarterly.
Annual.

Travel Demand period types: Day types and time bands for travel.

Qualitative

Number of trips/passes bundled in carnet.
---
1.2 Products
TRIP PRODUCTS
Fares to make a one-off trip:
Travel validity

Short hop: Limited number of stops
Single trip
Return trip
Time limited single trip ("hopper")
Day return
Period return (Fixed or variabel start date)

Eligibility:
Travel Conditions:

Whether Can interchange or not
Frequency of Use with a given period
Use by date

Commercial conditions:
PASS PRODUCTS
Period passes for a given period:
Travel validity

Day pass: also night and short interval passes
Term-time pass: academic term or year
Season pass: periods of on or more multiples of days, weeks, months, quarters or years

Eligibility:

User types
Group tickets (e.g. family day pass)
Commercial conditions:
CARNET PRODUCTS
Discounted multi-trip bundles of individual trips or passes :
Access rights
Commercial conditions:

Personal or transferable.
---
1.3 Sales Offers
SALE OFFER PARAMETERS
Conditions applying to product sale.
Media

Available types of Travel documents:

Paper ticket.
Smartcard.
Mobile app ticket.



Distribution Channels

Available ways of purchasing a ticket:

On-board
At stop (self-service machine).
At counter (Rail or bus station).
Online - Mobile app.
Online - post (for passes and cards.
Travel shop.
---
2. Complex Fare Product Profile Scope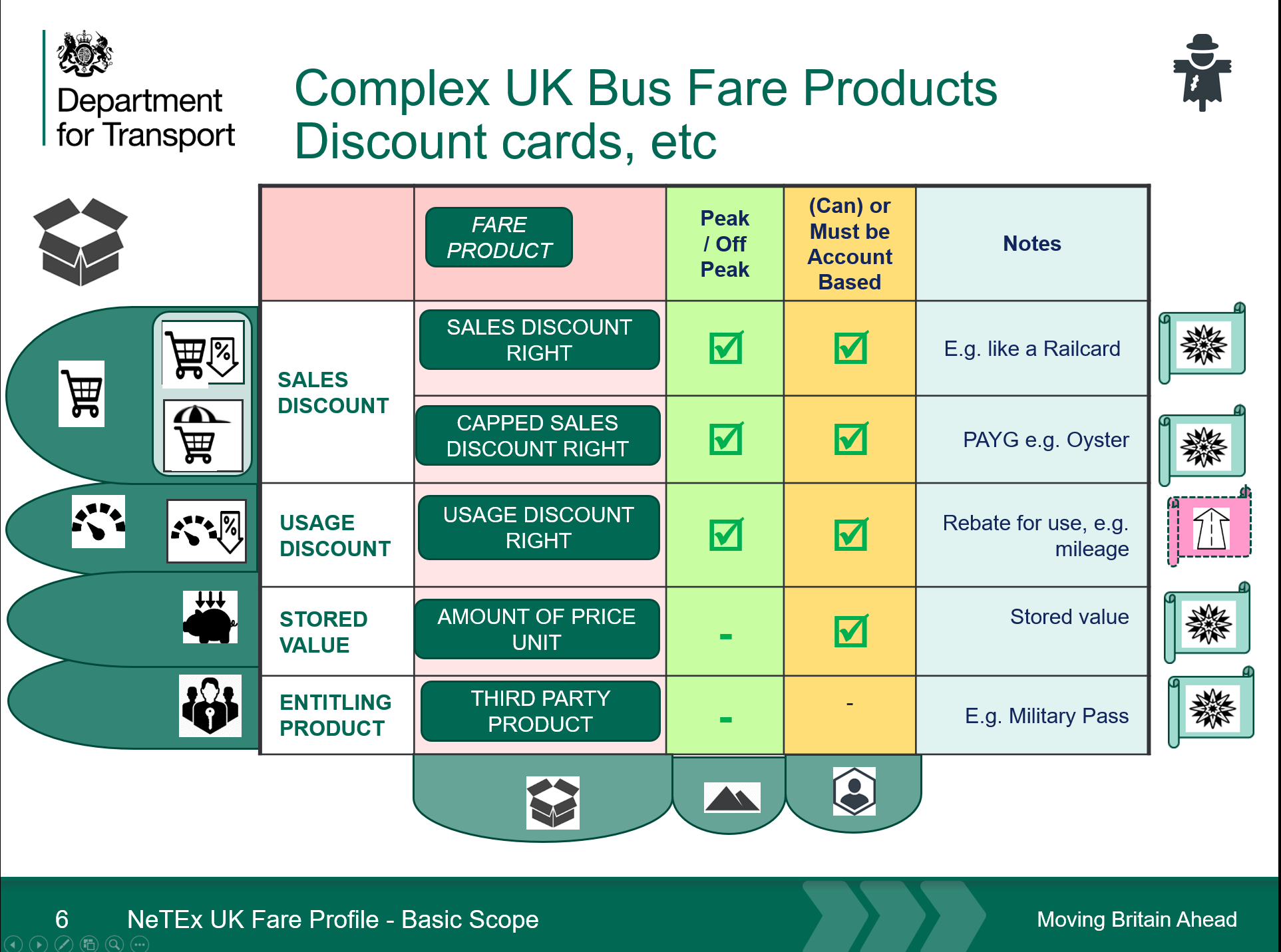 The advanced Fare Product profile support the basic features and additionally allows further products and further conditions.
2.1 Complex Products
SALES DISCOUNT PRODUCTS
Products that give discounts on purchases of other products (e.g. Railcards, Oyster, etc)
Capping

Cap to limit by period.
Mode specific capping.
Price by tmime of travel.
STORED VALUE PRODUCTS
Storage of value on a smartcard or account:
Value

Money or arbitrary units.

Top up:
ENTITLING PRODUCTS
Other products giving rights or receiving rights:
Eligibility

User Type.
Minimum Eligibility period.
---
2.2 Complex Conditions
VALIDITY CONDITIONS
Products that give discounts on purchases of other products (e.g. Railcards, Oyster, etc)
Travel conditions
Commercial conditions.

Exchanging./li>
Refunding.
AREA SPECIFIC CONDITIONS
Large scale Products such as PlusBus that have area specifc conditions
Area specific conditions

Included / excluded operators.
Included / excluded services.

Product dependencies.
---